Chef Fabio Viviani Meal Kits
---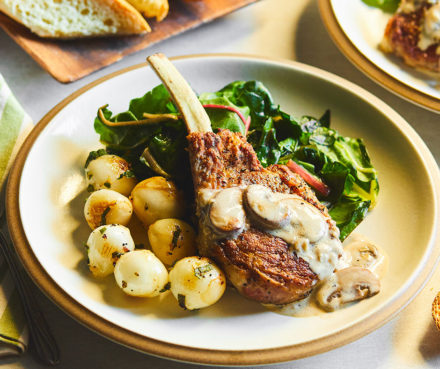 Veal Chop with Mushroom Cream Sauce
Ready to impress with this creamy, rich and decadent Veal Chop with Mushroom Cream Sauce ?? Accompany the star of the dish with champagne vinegar, herb glazed pearl onions and sautéed Swiss chard to balance out the richness of the dish. Can't forget about the toasted baguette perfect for soaking up every last bit of the creamy mushroom sauce ! You don't want to miss out on this flavorful meal!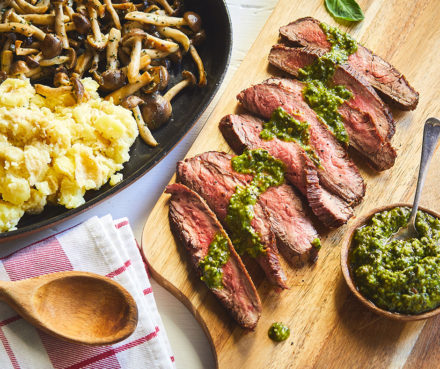 Pesto Flank Steak
My pesto flank steak will be sure to wow your dinner guests! I love a good flank steak – it's meaty, lean, and perfect for pan searing. A tasty and vibrant pesto sauce boosts the flavor profile of the steak, and a side of quick and easy homemade mashed potatoes and caramelized mushrooms make this a comforting yet elegant meal. The best part is that it's easy to make – no headaches and no fuss in the kitchen!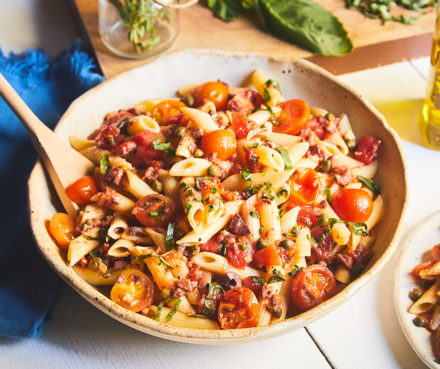 Penne Alla Puttanesca
Penne Alla Puttanesca is one of my favorite dishes to cook for family and friends. A step up from regular marinara, my puttanesca sauce is flavored with Kalamata olives, capers, and fresh herbs. It's tasty, it's salty, it's crunchy – all the components come together in the perfect tomato sauce that pairs perfectly with al dente penne pasta. Simple and delicious, you can enjoy this dish any night of the week!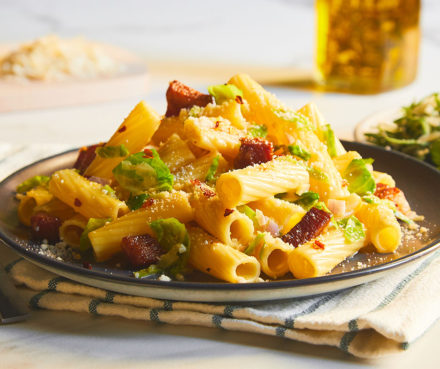 Rigatoni Carbonara
This is my ultimate favorite dish. The creaminess of the egg yolk sauce, the richness of the Parmesan cheese, the salty bites of bacon lardons and al dente rigatoni makes the perfect, decadent meal. My version uses thick cut bacon lardons instead of the traditional pancetta or thinly sliced bacon, and the shaved Brussels sprouts add a nice touch of green and texture. A bright, lemony arugula salad on the side helps balance out the richness of the pasta. I have no doubt that this will be one of your favorite dishes too!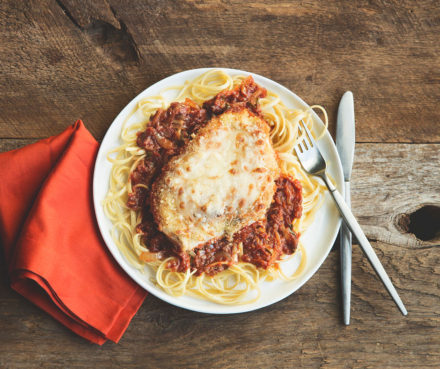 Chicken Parmigiano
"Fresh ingredients prepared simply any time of year can make an every-night dinner a meal to remember. If your family loves Chicken Parmesan at your local Italian place but you've never tried it at home, I've made it easy for you. The chicken maintains a crispy crust with a juicy interior, and it's topped with homemade tomato sauce flavored with fresh basil and oregano. On top of that is a crusty browned layer of cheese. Mmmmm. By the way, what time is dinner? I'll be right over!" — Chef Fabio Viviani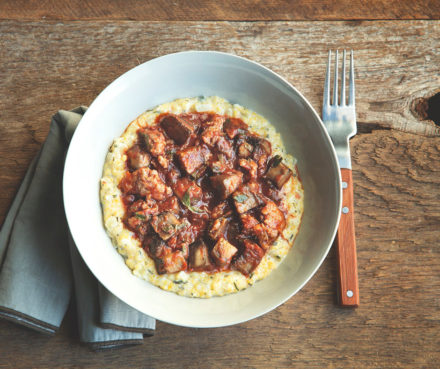 Turkey Italian Sausage
"I'm always in the mood for polenta—and I love the process of stirring a good pot of cornmeal over a low flame. Adding cream enhances the richness and flavor, making it the perfect base for this homey tomato sauce with lean turkey sausage, seasoned with rosemary and sage. A touch of cheese on top to finish, and you've got a meal your family can't wait to get home to." — Chef Fabio Viviani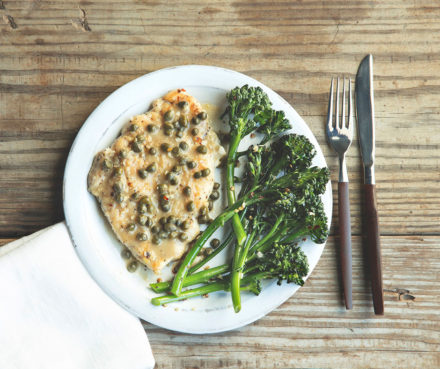 Chicken Piccata
"Sometimes when I want a taste of home, I turn to this dish. By the time I was 16, I was sous chef in the trattoria I practically grew up in, learning the special, simple manner of preparing classic comfort food. The wonderful acidity of lemons and capers combine with white wine to create the delicious sauce that compliments tender sautéed chicken. Just thinking about this satisfying dish makes me hungry!" — Chef Fabio Viviani
Chicken Cordon Bleu and Prosciutto
"Boring chicken again? Not a chance! You'll be cooking like a rock star tonight when you prepare my take on this classic dish. You know I love comfort food, and this dish has the best of everything. Tender chicken, creamy cheese and a fantastic combination of ham and prosciutto. A touch of basil gives it that Italian flair. It goes together fast and is certain to wow your family and friends." — Chef Fabio Viviani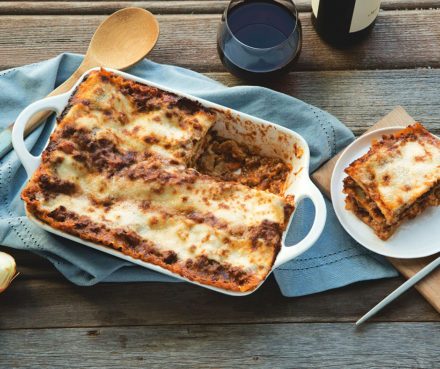 Meat Lasagna
A version of this craveable classic was an early favorite at my Bar Siena in Chicago. I've simplified it here by using ground beef for the tomato sauce that's flavored with onions, carrots and celery. You'll alternately layer the pasta with bechamel sauce that has a touch of nutmeg. The flavor profile is amazing – and it's a comforting dish that's perfect any time of year – for a special occasion or a weeknight dinner.
Shrimp and Asparagus
I have a deep and profound appreciation for food from all over the world. There's just something special about Southern cooking and what's more classic than the regional staple of shrimp and grits? Any pure bread Southerner will claim that no meal is complete without it! The combination of sweet shrimp, earthy asparagus and creamy Parmesan grits not only makes for a comforting meal but an incredibly delicious one, too!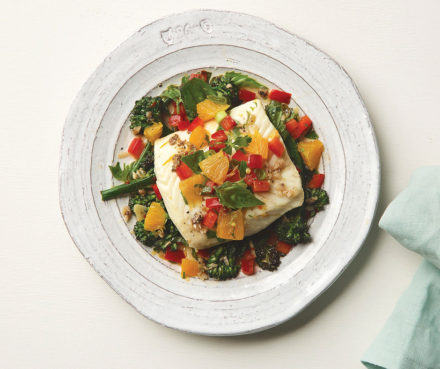 Mediterranean Citrus Poached Halibut
The bright, fresh flavors and beautiful colors of this dish take me right back to my childhood in Italy. This dish has everything I love about Mediterranean cooking – simple food, simply prepared. Fruity olive oil, fresh fish, lovely citrus and sweet basil are signature elements of the region's cuisine and truly showcase my passion for food. Buon Appetito!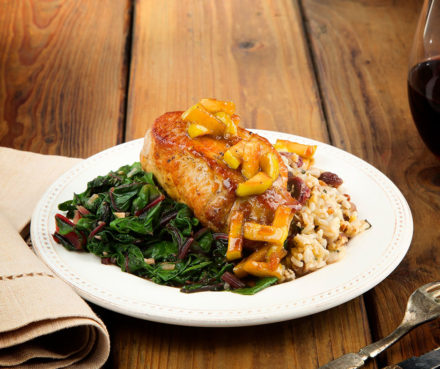 Apple Glazed Pork Chops
This is the kind of meal that will make you feel like a rock star chef. It's full of complex flavors, contrasting textures, and interesting ingredients. A perfectly seared, golden pork chop topped with a sweet and tangy glaze is the star of this dish. The glaze combines crisp apples with apricot jam, and then a splash of balsamic vinegar takes it from sweet to savory. You'll also make side dishes that bring color to the plate and pack a huge nutritional punch. Nutty brown rice and soft lentils make a unique pilaf, and bright Swiss chard cooks down to a tender pile of greens.